Yippee Junio Offer
Free Yippee Noodles: 100% Cashback in Junio Wallet
---
Yippee Junio Offer, How to Apply Yippee Junio code trick – Hello guys, We are back with Another Free Products Loot like Paytm Sting offer, Buy Yippee Noodles of 10/12/14 pack & Get 100% Cashback in Junio Wallet. That means, You can grab Yippee Magic Masal Noodles Packs for Free.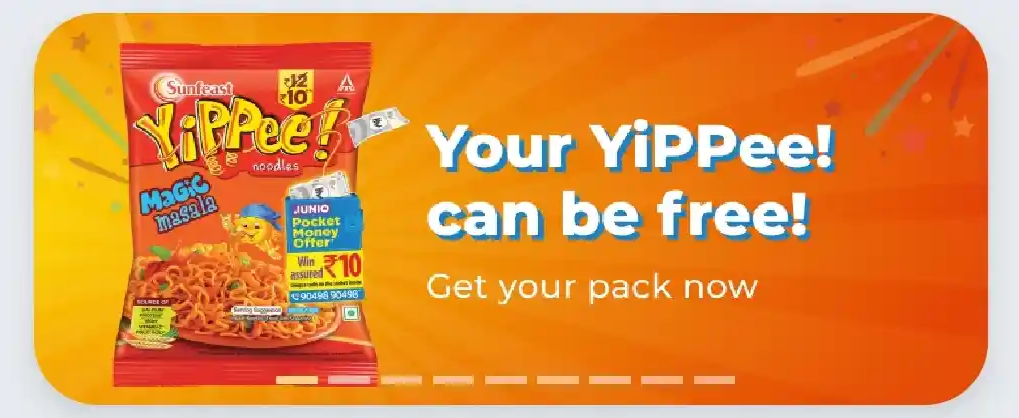 It is similar offer like Crax Paytm Offer, In which on each pack users are getting 100% Cashback on Paytm. Here you will get 100% cashback in Junio Wallet, the wallet about which we posted earlier.
Junio is the app for below 18 Year Age teens, which can spend & pay easily. They are giving various cards like mastercard for free. Also with various Amazing offers on Amazon, Swiggy, Add Money & More. See Junio Sign up & Get up to ₹100.
How to get Yippee Noodles Free

?

1, First of all, Visit your Nearest store & Purchase Yippee Magic Masala Noodles worth 10/12/14 Pack.

2. Must note that Free Junio Pocket Money is Mentioned in Pack.

3. Enjoy the Yippee Noodles & Keep the Wrapper of it.

4. Get a Unique Code on the Wrapper from Inside. Copy that code.
How to Apply Yippee Junio Code

?

You can also Missed Call on 9049890498 to See the Video of How to Participate.

5. Open Junio app. You can sign up from Here – Free Mastercard from Junio

6. Go to Add Money Option. Switch to 'Junio Voucher'.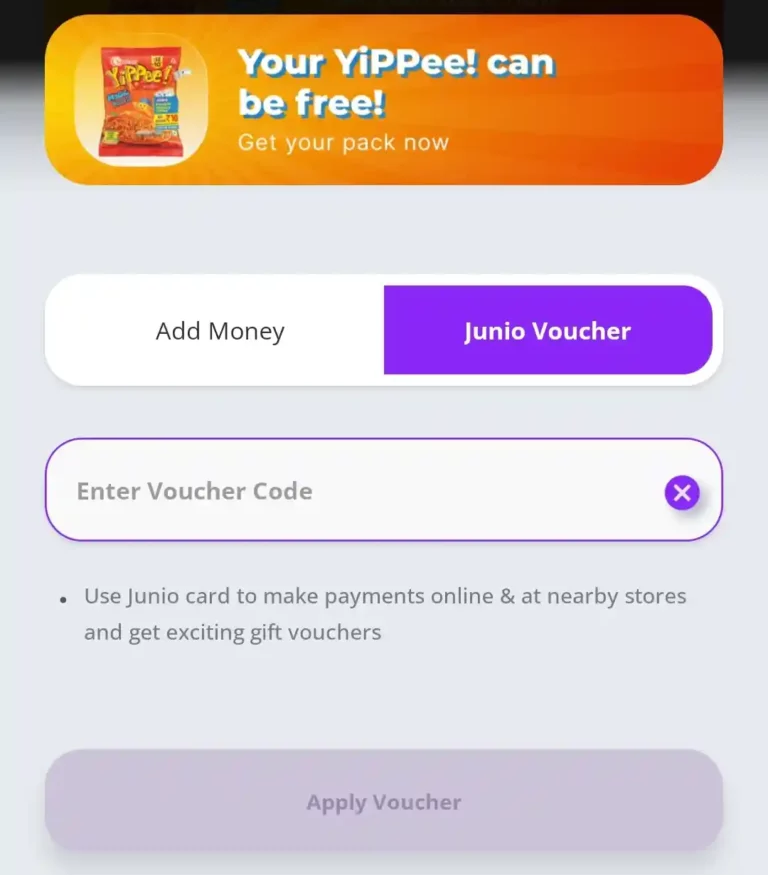 7. Enter your Unique Code & Click on Apply Voucher.
8. Done. You will get 100% Cashback of Yippee Noodles worth.
Terms and Conditions
The JUNIO Pocket Money Offer ("the Offer") is organized by ITC Limited and FirstPay Technologies Private Limited (collectively "the Organizers").
Participation in the Offer is purely voluntarily and optional. Persons participating in the Offer ("Participants") are deemed to have accepted these terms and conditions of the Offer.
The Offer is applicable only on packs of YiPPee! Magic Masala having MRP of Rs. 10, Rs. 12 and Rs. 14 ("the Products").
The Offer is valid in India from 15 November 2022 to 28 February 2023 ("Offer Period").Only Participants who are citizens of India and above 18 years of age are eligible to participate in the Contest.
The Participant can also give a missed call to 90498 90498 and receive an SMS with a link. The link directs the
Participant to a video where they can watch a tutorial on how to participate.
The Code cannot be redeemed after the expiry of the Offer Period. The Participant waives the right of redemption of the Code after the date of expiry of Offer Period.
The online cashback on the JUNIO mobile application under this Offer is non-transferrable and non- refundable. No physical cash payment will be made in lieu of this online cashback.
The Organizers reserve their right to call upon the Participant to submit any document for verification of identity as per the Organizers' sole discretion.
FirstPay Technologies Private Limited will be liable for any delay in actual redemption under this Offer reflecting in the Participant's registered account.
The Organizers will not be liable in any manner for any cost or expense incurred for the purpose of redemption of the Code under the Offer.
At any time,the Organizers reserve the right to update and/or amend all or any of these terms without further notice.
The post Yippee Noodles Junio Offer : Get 100% Cashback in Junio Wallet appeared first on Free Recharge Tricks-CoolzTricks Unlimited Paytm ,Free 3G 4G Tricks.
ADS