Droom Biker Sleeves Flash Sale
(Loot) Droom Biker Sleeves Flash Sale – Get Biker Sleeves In Just Rs.

9
---
Droom Biker Sleeves in just Rs.29 – Hey Guys, Most of you must remember Droom as they were giving ISI certified helmets in just Rs.9. Also, they were giving Perfume in just Rs.21. Now, many of us looted both these products.
For those of us who missed both of these Loots, we have come up again with another massive loot. This time the company is offering Biker Sleeves in just Rs.9 Instead Of Rs.399
Also Check Out: (Loot Lo) PayTM Mall – Get Free Rs.100+30 Recharge In All Number(All Users)
---
Droom Biker Sleeves Flash Sale – Date & Time
Droom is beginning it's next Flash Sale – Biker Sleeves Sale on 4th January 2023. Like previous sales, the sale will be live from 11 AM till 6 PM. So jot down these details in your mind if you don't want to miss this awesome loot:
Date : 4th January 2023
Time :

10AM to 5PM

Product :

Biker Sleeves

Price :

Rs.9

[Original Price : Rs.399]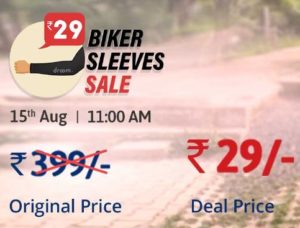 Continue reading the post to know How to Buy the Biker Sleeves in just Rs.29
---
Droom Biker Sleeves Sale – How to Buy in just Rs.9
First of all visit the following Droom Biker Sleeves Sale page.
Enter your Name, Email and Mobile Number.
Click on Register Now.
You will get a reminder on your Mobile Number and Email from Droom before sale.
The sale begins at 10AM on 4th January 2023
Use coupon code from the above page.
Pay online via Paytm or other available options.
| Time | Price | Code |
| --- | --- | --- |
| 10-11 AM | ₹9 | BIKERSLEEVERS9 |
| 11-12 AM | ₹9 | BIKERSLEEVERS9 |
| 12-1 PM | ₹19 | BIKERSLEEVERS19 |
| 1-2 PM | ₹19 | BIKERSLEEVERS19 |
| 2-3 PM | ₹29 | BIKERSLEEVERS29 |
| 3-4 PM | ₹29 | BIKERSLEEVERS29 |
| 4-5 PM | ₹39 | BIKERSLEEVERS39 |
| 5-6 PM | ₹39 | BIKERSLEEVERS39 |
Note : – It is recommended that you fill out your shipping details before the sale starts. As it will save a lot of time during High traffic when site might be unresponsive.
Congratulations! You will soon receive your Biker Sleeves worth Rs.399 in just Rs.29.
---
Droom Biker Sleeves Sale – Terms & Conditions
Single order per registered user only
All Bike Sleeves will be consisting of "droom.in" logo
This Deal will be Live on 4th January 2023 from 10AM till 5PM or until stocks last
The Item will be shipped and expected to reach the buyer in maximum 7 working days
It is a single product offer only and can't be combined with any other offer(s)
Droom reserve the right to cancel your order without providing any reason(s)
Cancellation can be done by the buyer at order placed status and delivered status only if product is damaged
Droom disclaims that it will neither be liable nor responsible for any actions or in actions nor any breach of conditions by the sellers or manufacturers of the product and hereby expressly disclaim all responsibility and liability in that regard. Seller or Manufacturer shall be solely responsible and held liable for the same
In case of any dispute the maximum liability of Droom will be the amount paid by the buyer
Droom may ask for more information before processing your Order
This Offer/deal can end anytime with or without any prior notice
This Offer can be availed with online payment method only. There is no COD (Cash on Delivery) option available on this Offer.
Droom expressly disclaims any warranties or representations (express or implied) in respect of quality, reliability, authenticity, performance, safety, manufacturing defect or legality of the product listed or displayed or transacted or the content (including product information and/or specifications) on the website
This is a consumer promotion only and any order deemed to have been placed for reselling purpose shall be cancelled
Droom's decision shall be final – please consult our dispute resolution team for any issues. Any dispute will be governed by laws of India and shall be subject to the exclusive jurisdiction of courts at New Delhi only
For any Support, please contact our Customer Care on: 1800 407 070707
This Offer is valid only on Droom Website and Droom Mobile Application. However, Droom has right to change the Offer without explaining any reasons
The post (Sale Day) Droom Biker Sleeves Flash Sale – Sleeves In Just Rs.9 appeared first on Free Recharge Tricks-CoolzTricks Unlimited Paytm ,Free 3G 4G Tricks.