Amazon Prime Youth Offer
Amazon Youth Offer – 1 Year Prime Membership In Just ₹599 For Youth
---
Amazon Prime Youth Offer , Amazon Youth Offer For Prime Membership – Hi Guys, Amazon Great Indian Day Sale Is coming & Amazon is All Set and Prepared For it. Now Amazon is offering ₹750 Cashback On Purchase Of Yearly Prime Membership Of ₹1499. Also they are now running the extra 10% referral offer.
Thus , You Will Get Prime Membership In Just ₹599 Only Plus You will get extra ₹200 cashback on add money offer. Final price of Amazon prime membership will be Just ₹399.
This Offer is Specially Designed For Youth With Age Between 18-24 Years Only. And If You are In This Age Period Then You can Get Amazon 1 Year Prime Membership In Just ₹749 Only.
You Know Why Prime Membership is Important Nowadays. We Prime Users Have Already Looted The Amazon Free ₹1000 Shopping Loot & Amazon ₹55 UPI Loot. And Upcoming Amazon Diwali Sale Will Be Big For Amazon Prime Users Only.
Also With Amazon Prime Membership You can Take Benefits Of :
Amazon Prime Videos ( Thousands Of Movies & TV Series & Web Series)
Amazon Free Prime Music Service
Amazon Fast Delivery (1 Day or 2 Day Delivery)
Coupon Benefits
Subscribe & Save Benefits
Exclusive Early Deals Before Sales Like Prime Day & Great Indian Sale.
---
How To Grab Amazon Prime Membership @ Just ₹599 In Youth Offer
?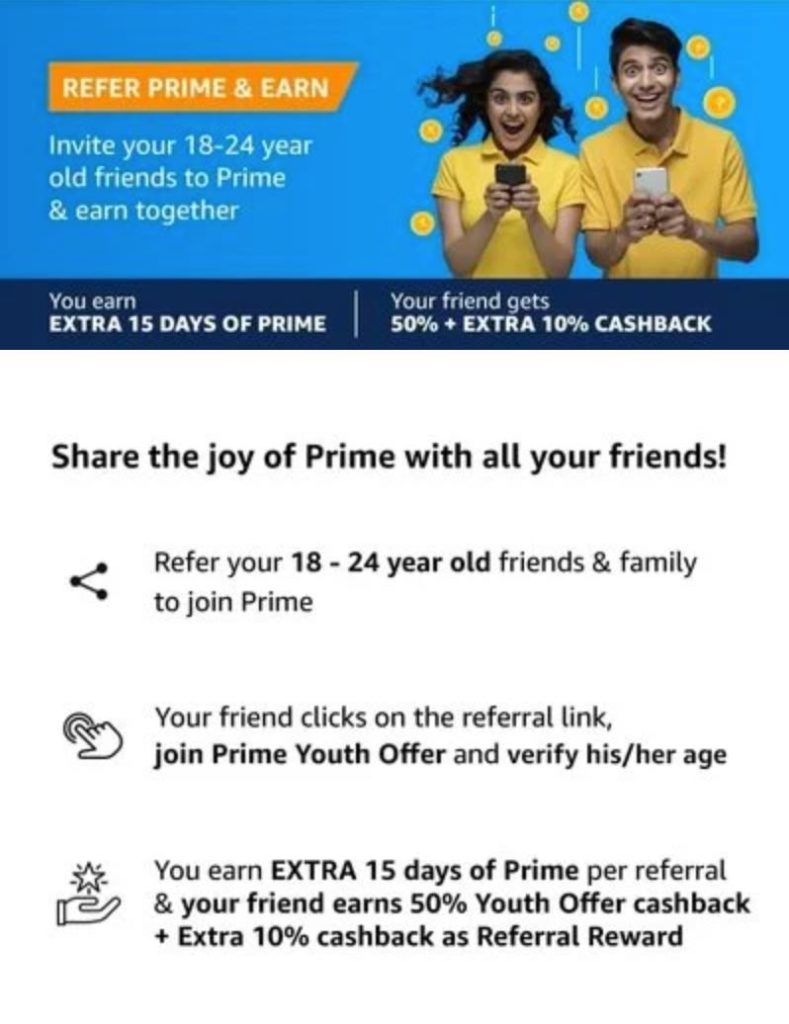 Follow below steps to get Prime In Just ₹599 only
*** First of all just collect ₹150 cashback offer from Here : https://amzn.to/3Jx432w
1, First Of All Make Sure You are having Amazon Account & You are Between This Age Period (18 Years to 24 Years)
2. Now Just Login Into Your Amazon Non Prime Account
If you are not a Prime member, you will need to sign up for 1-year membership and go to Prime → Youth Offer on Prime (banner) and provide consent on the "youth offer on Prime" page.
3. Now Purchase The Prime Membership Through That Page & Pay ₹1500 With Available Payment Modes
4. Now to verify your age for the purposes of this Offer, you must upload your KYC documents (i.e One government issued identity card) and one selfie on by going to Amazon Pay → KYC on your Amazon mobile app
5. Also You will need to create an Amazon Pay account by entering your mobile number and a verification document id number, if not done already
Note – you must complete the age verification process within 15 days
6. ₹750 Cashback Will Be Credited In Your Account Within 10 Days of activation of your paid Annual Amazon Prime Membership + 10% Extra Referral cashback (₹150) Will be added
Final Price = ₹599 Only…

If you have already signed up for Prime, you can go to "Your Account" → "Manage Prime Membership" → "Get 750 cashback". You will come to Youth Offer on Prime page, where you can give your consent.
7. Done !! Enjoy Your Discounted Prime Membership
How To Get Extra ₹200 Off
Steps:-
First Add ₹500 × 2 times using 2 Different RuPay Platinum Debit Cards. (You will get ₹100 Off × 2 times, So ₹200 Off on Fridays) – Flat ₹100 Cashback
So, you Added ₹ 1000 Amazon Pay balance @ ₹800
So ₹ 800 – 500 = ₹300 Effective Cost of 1 year Prime Membership.
Note – If You Activate this offer @ 18 years Age, then Next year you can renew your Prime membership i.e. you will be again eligible for ₹500 cashback till the Age of 24 years.
Amazon Prime Youth Offer Refer & Earn

–
Amazon has started the referral program in Prime Youth Offer. If you have Amazon prime & your age is 18-24 then You can refer your Youth friends (age 18-24) & You will get extra 15 days Prime membership free per referral.
Your Youth friend will get – Flat 50% off + Extra 10% cashback on Prime membership purchase.
Just know that your referral link will work for 1 time only. You have to generate new referral link Everytime to refer friends.
Amazon Prime Youth Referral link is – https://amzn.eu/iN42w3T [If link is showing expired then use referral link from Comments sections]