Pragati Rice Scan QR Offer
Get Coupons worth Rs.50, Rs.100, Rs.500, and Mega prizes of Rs.5000 from Pragati Rice
---
Pragati Rice Scan QR Offer: Hello Guys, Welcome back to another free cashback offer from daily use food packets, Pragati Rice is giving away Cashback Coupons on selected packets of up to Rs.50, Rs.100, Rs.500, and Mega prizes of Rs.5000. You already availed similar offers like Coke2Home Food Loot, which is giving Free Zomato Vouchers & Free Mcvities Biscuits as 100% Cashback.
The offer works as Purchasing a certain Pragati Rice Bag flavor. Inside the Pragati Rice Bag, you may find the QR voucher. Use any QR code reader or the camera on your phone to scan the QR. After scanning the QR code, the lucky winner may view their winnings. Complete the form with the necessary data. After the information is submitted, the prize money will be paid to the bank account within 7 to 10 business days.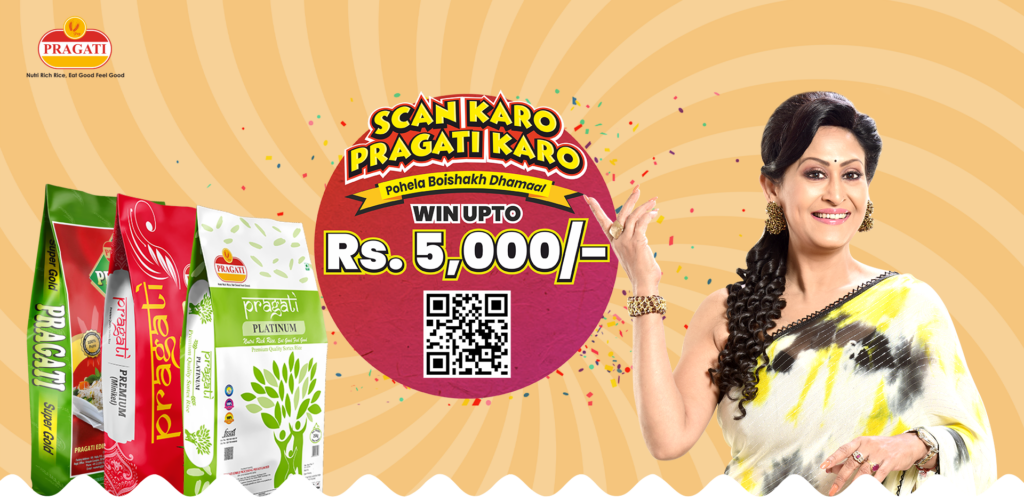 Don't miss, Pragati rice is nutrient-rich rice, & you can grab huge cashback on purchasing it. Follow the below steps to get cashback on Pragati Rice.
How to get Cashback of Up to ₹5000 on Paragti Rice?
By purchasing the 26KG Product Bags from our chosen category and scanning the QR Code, participants can participate.
Step 1: Scan the QR code using the camera on your phone or any QR code scanner.
Step 2: After scanning the QR code, you may view the winning sum.
Step 3: Complete the form with the necessary data.
Step 4: The payment will be sent to the same bank account, so be sure to provide accurate "Bank Details".
Step 5: Within 7 working days of submission, the prize money will be paid to the winner's bank account.
Participating Products: Pragati "PREMIUM" Miniket, Pragati "SUPER GOLD" Banskati, and Pragati "PLATINUM" Swarna Steam are participating products.
Entry Deadline:
All entries must be received by the Organiser on or before 00-month 2023 at 23:59 hr. QR Codes will be automatically disabled for scanning as per the deadline but in case of any technical error entries received after the closing date will automatically be disqualified.
Prizes: Coupons of Rs. 50.00/-, Rs. 100.00/-, Rs. 500.00/- and Mega prize of Rs. 5000.00/-.
Prize Distribution Process:
After submitting the entry by scanning the QR code followed by providing the information required Organising team will verify the data and transfer the amount to the Bank Account provided by the Participant.
Processing the coupon amount transfer after verification will take up to 7 to 10 working days. In case of any confusion or error organizers, the decision will be the final decision.